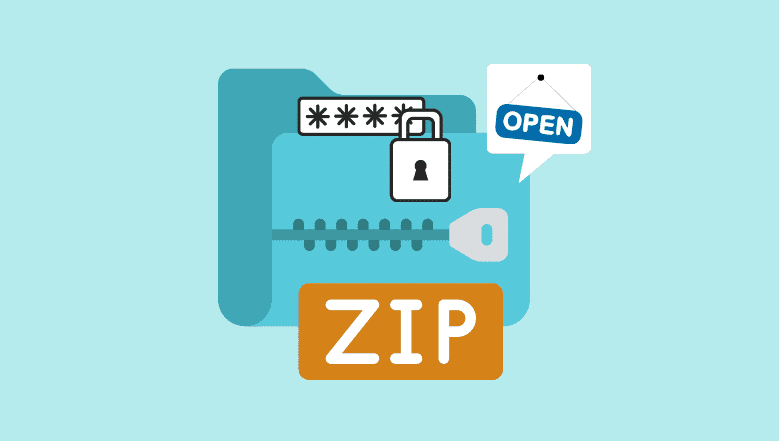 ZIP files can assist you to save storage by compressing your data files, and they're also a terrific method to organize your stuff. You can also use an encrypted password to safeguard your documents from unauthorized access. You won't be able to view the files in the ZIP file if you forget the password or if anyone sends you a password-protected ZIP file without including the password. This can be really aggravating. The issue of forgot the ZIP password is the most problematic thing among consumers. And you will search for a way to recover the ZIP password.
When you forget the password to a ZIP file, there are several options available to assist you. The issue arises when you find you have forgotten the password to a ZIP file and are unable to open it. If you find yourself in a position where you can't remember the password for your ZIP files, be cool and attempt to recall the ZIP password you created.
Bypass Forgotten Zip Password with PassRec for Zip
You can easily crack password-protected RAR files with the help of PassRec software. If you don't know how to use PassRec for RAR to crack password-protected WinRAR files, here is the step by step method is given:
Step 1: Download and Install
First of all, download PassRec for RAR. After downloading and installing, set it up on your PC. Now, open the software and its home screen will look like as follows: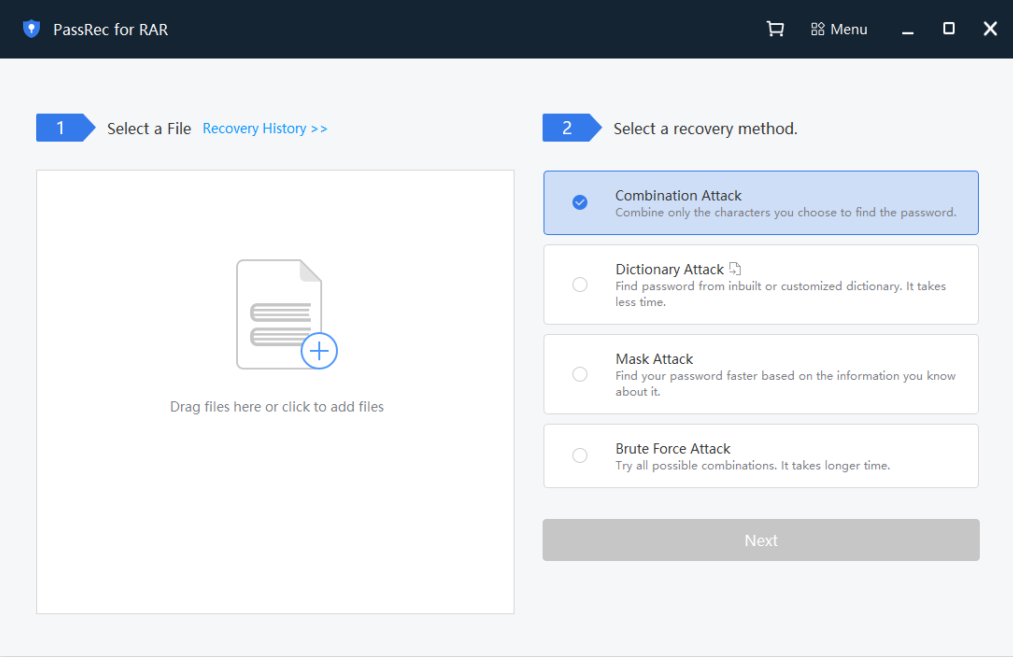 Step 2: Choose Targeted Files and Unlock Methods
The next step is the selection of targeted files. Just drop the file on the space available on the left of the screen by dragging the RAR file you want to unlock.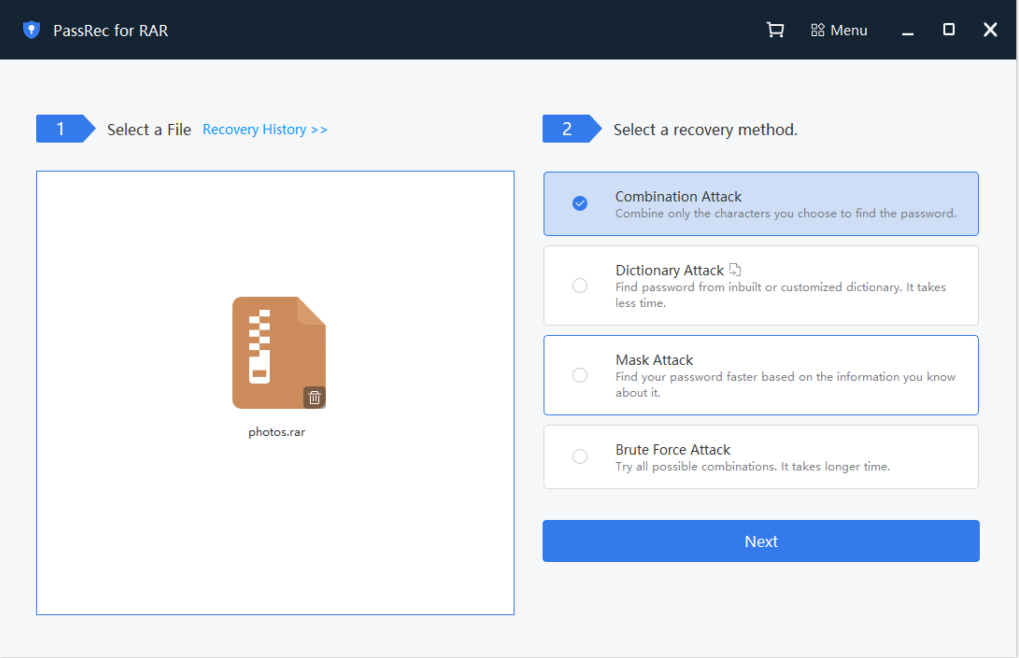 Now, you need to choose a cracking method given on the right side of the screen according to your requirements and file. After this, click "Next."
Combination Attack
If you only have the idea of a few of the characters of your password, then you should choose the Combination Attack method. Select this method and click "Next." Using this method, you are required to provide some hints about the password that you know. For example, the password length, lowercase/uppercase letters, prefix/suffix, symbols, and numbers.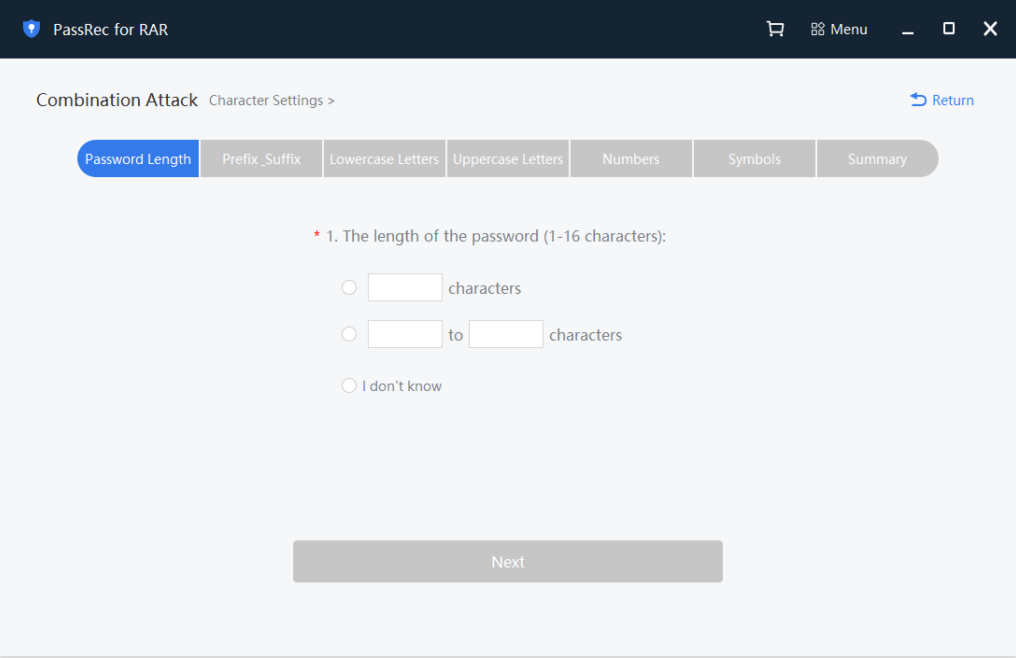 Once you have provided all clues you remember, a Summary screen will be shown having listed all the hints or clues that you know. These clues you have provided helps PassRec by narrowing the range of password attacks.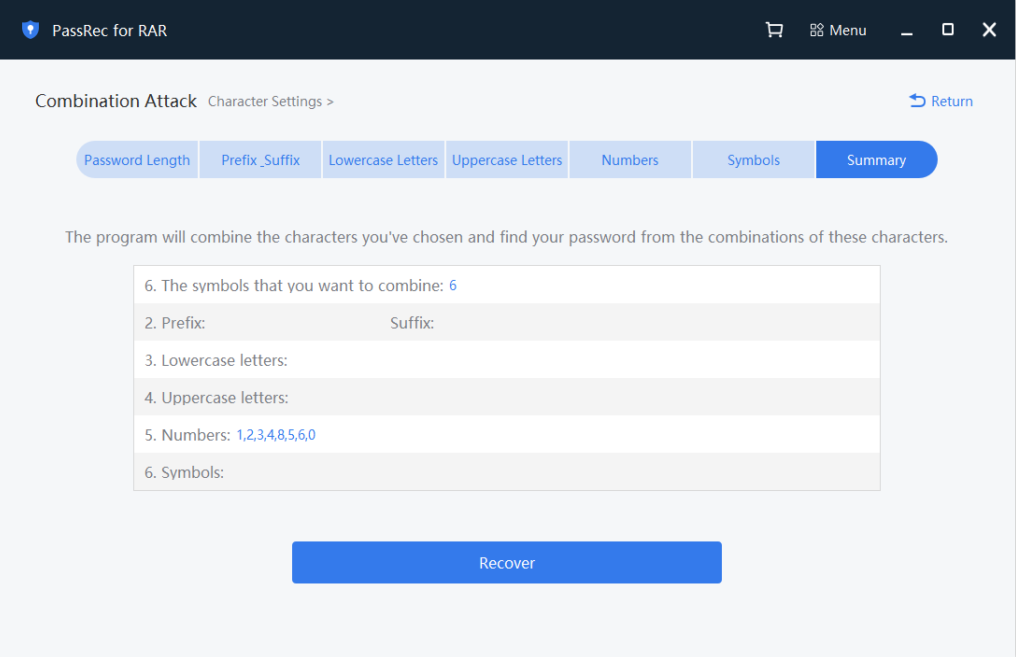 Dictionary Attack
PassRec has an inbuilt password dictionary and choosing the Dictionary Attack method will bring it into play and PassRec will try to find your password from its password dictionary. This will obviously take more time compared to the Combination Attack method.
Brute Force Attack
If you don't remember anything about the password, choose this attack method. The Brute Force Attack method is the method to be followed if you have no idea how many characters the password has, or what the password of your RAR file contains. PassRec will try every possible way to do password recovery when you choose this method. This will also take longer compared to the methods we discussed above.
Step 3: Wait Until it's Done
Password recovery will take time according to the clues or hints you have provided about the password of the RAR file. It can take minutes, or even hours. The time will also depend on the complexity of your password. Complex passwords will take more time.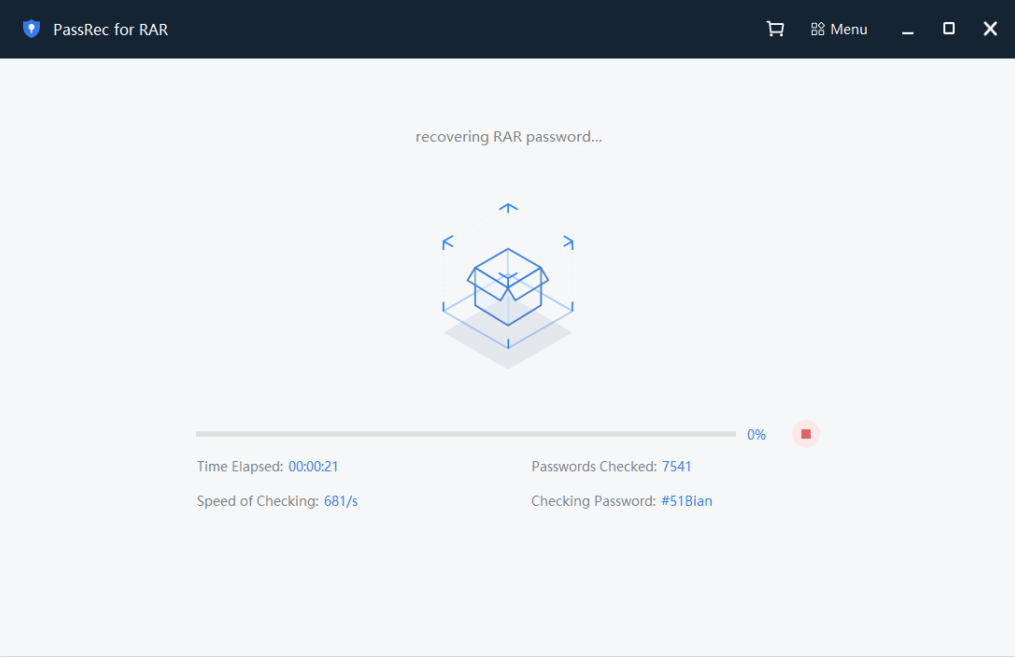 You will be notified like the screen below if PassRec successfully unlocks your RAR file password.
You only need to click on the "Copy" button, and easily open the encrypted RAR file.
Recover Zip Password Online If You Forgot It
If you don't want to download and install software on your computer in order to recover your ZIP password, you can do it online. This acts as in zip cracker online which aids in solving the problem. There are a lot of websites that can help you recover the password for a ZIP file. This website is one such site. Follow these steps to retrieve your password using this site:
Step 1: Go to the website by clicking the link above. Find the "Browse" button on the site and click it to upload your locked ZIP file.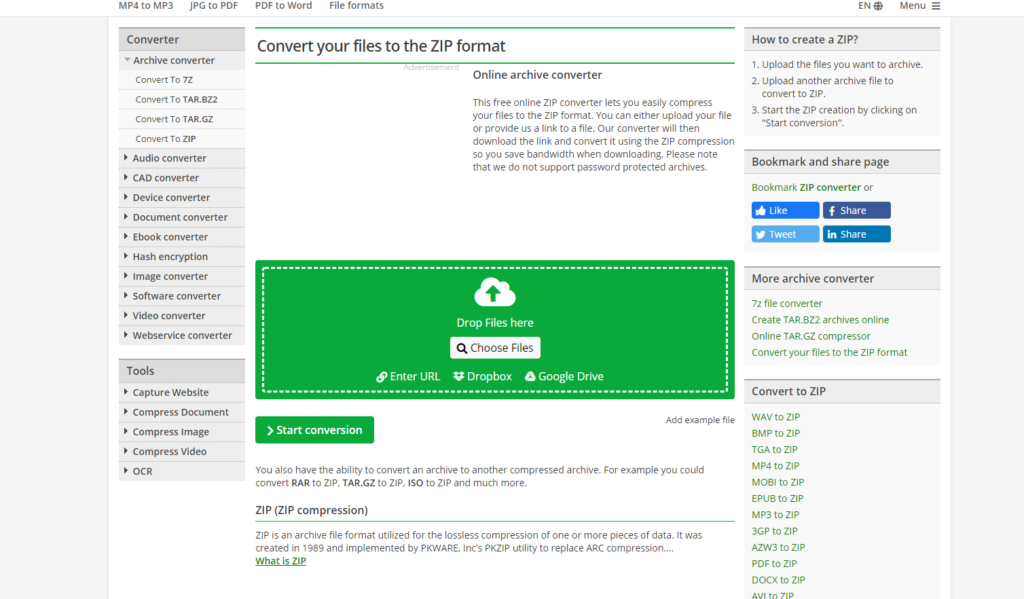 Step 2: Choose the ZIP file you like to crack in the pop-up box, and then press the "Convert File" option.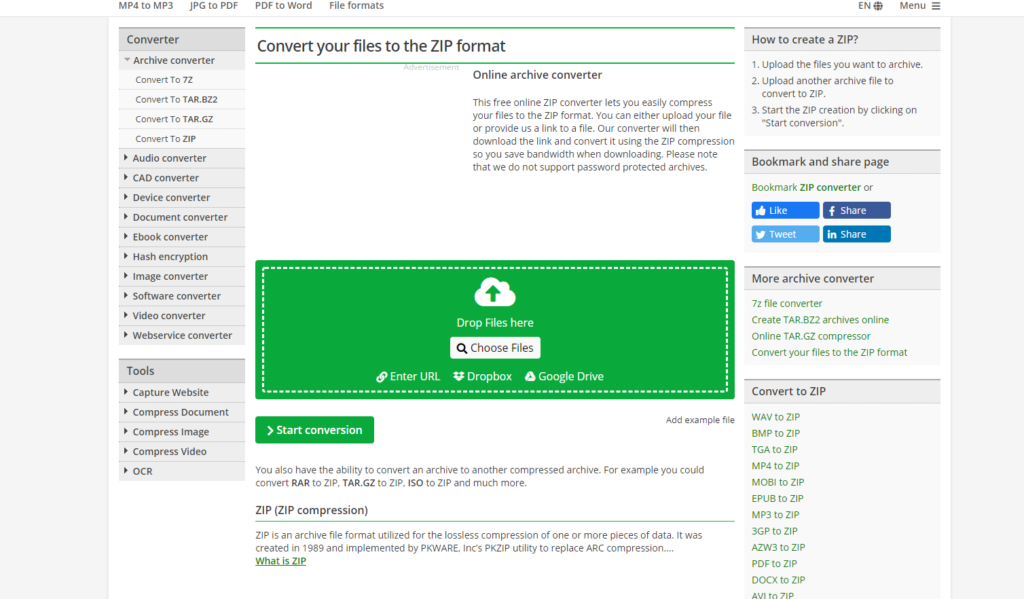 Step 3: The file will be uploaded, and the password will be removed from the ZIP file by the site.
Step 4: You can now download and open the file without having to enter a password.
It's vital to understand, though, that recovering your password online necessitates uploading your documents. This indicates that your file is vulnerable to both security and privacy threats. As a result, if the ZIP file includes a secret document, you should think more carefully before attempting to retrieve its password using an internet service. The issues related to zip cracker online can resolve easily.
Using Notepad, to Bypass Forgotten ZIP Password
When you forget the password to a ZIP file, you can use Notepad to unlock it for free. Many people are unaware that you may access a password-protected ZIP file using the notepad on your Windows 7 computer all the way up to Windows 10. It efficiently helps in zip password bypass. Follow these procedures to use Notepad to access a password-protected ZIP file that you don't have a password for:
Step 1: On your computer, locate the password-protected ZIP file. To open the file, right-click on it and select the option "Open with Notepad."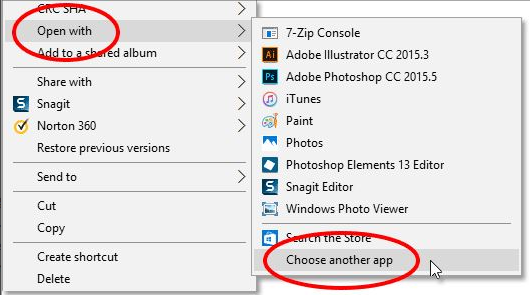 Step 2: Find the keyword Ûtà on the second line of the opened file and replace it with 5³tà', then save the changes.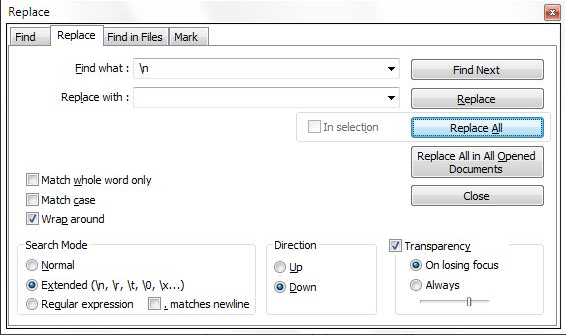 Step 3: You can now open the ZIP file without having to enter a password.
Note: This method can only be used to recover a numeric password and zip password bypass in this case. And the rate of recovery is quite low.
Conclusion
Using any of the methods listed above, you may now access your password-protected ZIP files without a password if you forgotten. You should have no trouble selecting an acceptable method because you are aware of the benefits and drawbacks of each. In this article, we have discussed some important methods you can use to recover your forgotten ZIP file password. All the methods are working but you have to choose the suitable method according to your requirements.