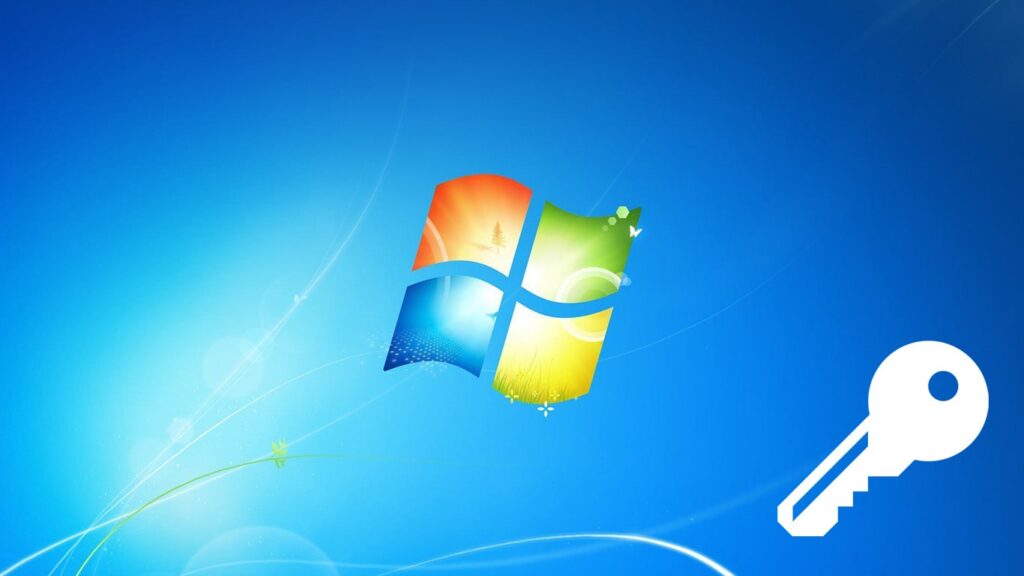 The commercial software frequently requires you to enter a product key which helps to activate it. This key verifies that you have a valid software user license. For the activation of its operating system, Microsoft has uses a product key. Therefore, it would be foolish to believe that after activating a Windows 7 system, you will no longer require the activation key.
Let us just assume you need to reinstall Windows, but you've lost or forgotten the product key. So, what exactly do you do? Is it possible to retrieve the Windows 7 product key? While it may appear difficult at first, knowing how to find a Windows 7 product key is simple if you use the correct approaches. So keep reading to understand how to recover a Windows 7 product key on your Dell or HP laptops.
What Is A Product Key?
Before the widespread use of downloads, software was supplied on a physical storage medium such as DVDs, CDs, or discs, from which it could be loaded on the system for further installation and operation. However, because these discs were often duplicated or given to friends and associates, software companies began attaching unique numbers to each copy issued. This guaranteed that software could only be used when the product key was input.
The days of printed product keys on CD covers are gone forever, with the bulk of software available for free download. You no more will need to remember a product key to get begun because operating systems come pre-loaded when you buy a computer or laptop. However, suppose your hard drive needs to be formatted due to malware or for testing purposes. In that case, you'll need to input the product key during the Windows 7 re-installation to utilize the operating system.
When Do We Need Windows 7 Product Key?
A product key is similar to the unique password of a program. This password is provided when you purchase software and may only be used with that program. Without the product key, the software will most likely not open past the product key page, or it will only run as a trial version of the full version.
Even though most product keys can only be used by one installation of software, certain product key servers enable the same key to be used by many persons as long as they are not used simultaneously.
Let us now, in brief, understand how the Windows product key helps you:
Use your existing license on a new device and save money by purchasing a DOS-only device.
During the re-installation of Windows is done.
Upgrade to newer versions of Windows for less money or for free.
When Windows isn't enabled, annoying messages like "Your computer has encountered a problem" start appearing.
Imagine that your Windows 7 has not been activated after a period of time. In such a situation, Windows will provide a warning message such as "Your Windows license will expire soon," or "Your windows are not active," which may be quite inconvenient when you're working on something very important. If you unexpectedly receive this notice from Windows, it is best to avoid such messages.
How To Find The Windows 7 Product Key On Your System?
Moving on further, now let us look at the methods that help us find the Windows 7 product key on the system.
Find Windows 7 Product Key Using Command Prompt
This method to find windows 7 product key using command prompt will work only when the key is saved in UEFI/BIOS. It also implies that it will be applied instantly if you reinstall it using the same Windows version.
Here's how to find your Windows 7 product key in CMD, just in case you misplace it:
Step 1 – In the search box, press Windows Key + R, and then type CMD.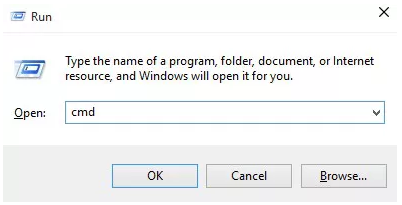 Step 2 – To see the results, write or paste the following code into the cmd and click Enter.
wmic path softwarelicensingservice get OA3xOriginalProductKey
Step 3 – The product key connected with your Windows 7 will be shown using the command above.
Step 4 – Note down the product key and keep it somewhere secure.
Find Windows 7 Product Key in Registry
You could be looking for your Windows 7 product key for a variety of purposes. Maybe you misplaced it and now need to find it as soon as possible. You may also choose to reinstall the Windows 7 operating system. This product key is generally kept in the Windows registry. So you may start the Windows 7 and look up the product key in the registry to assist you in finding this information if you've misplaced the packing.
Now, let us have a look at the methods that help you to find the windows 7 product key in the registry:
Step 1 – Click Run from the Windows Start menu, situated at the lower-left corner of the screen. Then, in the Run window, type Regedit and hit the OK button. The Registry Editor will then appear.
Step 2 – In the Registry Editor, go all the way to 'HKEY_LOCAL_MACHINE\SOFTWARE\Microsoft\Windows\CurrentVersion\Installer\UserData' and click Ctrl + F to find the "ProductID" key.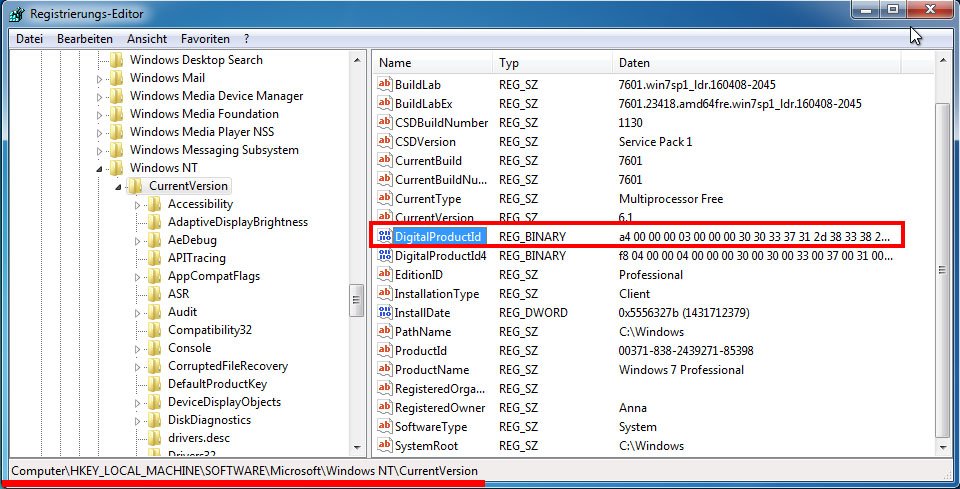 Step 3 – Select Modify from the context menu when you right-click the ProductID key. Look at the displayed number. This is the Windows 7 product key that you are looking for.
Find Windows 7 Product Key Using Powershell
Step 1 – Right-click on Start and choose Windows PowerShell from the menu.
Step 2 – Start PowerShell as an administrator and look for the Windows Product Key in PowerShell.
In the PowerShell window, type powershell "(Get-WmiObject -query 'select * from SoftwareLicensingService').OA3xOriginalProductKey" and press 'Enter'.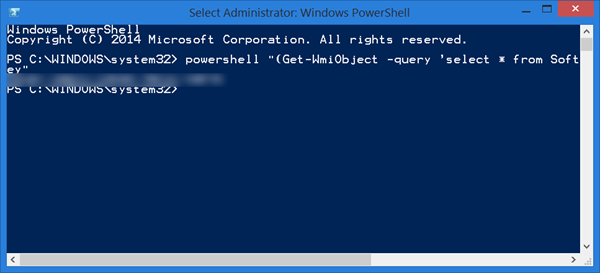 Step 3 – Your Windows product key will appear shortly.
That is all there is to it. You may now switch computers, reinstall Windows, or activate it using your Product key.
Other Suggested Methods
Like other Windows, you can find the Windows 7 product key on the dell/hp laptop with many other methods. Some of them are:
Displayed On Label Of The PC
A product key is usually required when removing or reinstalling Windows 7. When you buy a physical copy of Windows, the product key is usually printed on the sticker inside the box. If your computer comes with Windows preinstalled, the product key should be visible on the PC sticker.
Find On The Bottom Of Laptop
If you have a Windows 7 computer, there's a chance you'll get a single key that the manufacturer uses on all of their machines. You aren't permitted to use that product key due to System Locked Pre-Installation; attempting to do so will result in an error message. Thus, look for a certificate of authenticity sticker with a product key written on it.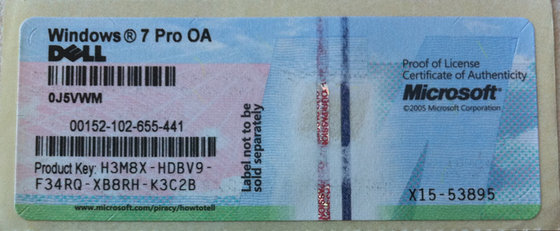 Check your laptop for the windows 7 product key; it may be on the bottom, although this is not always the case. If your laptop has a replaceable battery, the product key might be under it. Other than this, if there's a part you can open, the key is available there; or it could be added into the laptop's charger brick.
Product Key On The Side Of Desktop Case
The Windows 7 product key is found on your desktop. Usually, there is a label with the Product Key information on the right side of the computer cases.
Yet another easy way to find the windows 7 professional product key is to check the email. You should have given an email address for verification whenever you purchased the PC or a product key. You should have received an email with the information related to the product key from the website. So keep that email or make a copy of it since it will help you recover your product key if you lose it.
Check Out The Microsoft Order History
Look through the order history if you purchased the key through Microsoft's website.
How To Locate the Serial Key on Windows 7 Using Software?
The PassFab Product Key Recovery can certainly be of great help whenever you want to find your Windows 7 product key. This one does the work fast and efficiently. This Windows key finder can work with every system, whether SQL Server, Microsoft Office, Internet Explorer, or Windows 7, 8, 8.1, or 10.
Make sure you have the most recent version of PassFab Product Key Recovery downloaded and installed to get started. Then take the following steps:
Step 1 – To use it, double-click its icon on your desktop.
Step 2 – Click the 'Get Key' button at the bottom of the home window. Your Windows 7 registration code will appear right away. Other registration numbers, such as those for Internet Explorer, will be extracted by the software.
Step 3 – Next, select "Generate Text" to create a text message for them if you need to look for the Windows 7 product key again.
Step 4 – Lastly, tap' Open Folder' on the PassFab Product Key Recovery tool to see your recovered product keys.
Conclusion
Thankfully, we have covered almost every method that can help you locate the serial key for Windows 7. From finding the product key using CMD, Powershell, or registry to the usage of the product key finder, there is almost everything included in the list. If you have any questions or need help reading the different methods, please let us know and share your concerns in the comments section.
Thanks for the valuable time that you spent here!