Have you forgotten the password of your pdf file or possess a secured pdf without the key and don't know what to do? No worries as there are many practical ways to unlock a pdf file without a password. It sure is hard to crack PDF password and extract the content of the file, but here we are to help you through this situation.
In this article, we will provide you with solutions to your problem. You will get to know different methods to hack pdf password in a step-by-step format. Cracking any pdf password is an easy task once you go through our article. All you have to do is to read through this article and follow the given steps. So, without further ado, let's begin.
Method 1. How To Crack PDF Password Using Google Chrome?
The easiest method to remove security from pdf is by Google Chrome though. The password of your file will be removed in less than 5 minutes with this guide.
Note: Chrome is used as a pdf password remover, not a PDF password cracker. If you do not have a passkey, skip down to Using Google Drive. If you have the passkey, then continue reading.
Step 1: Open Chrome
Run Google Chrome browser on your desktop. If Chrome is not installed then, Opera, Microsoft Edge, or Firefox will serve the purpose. All these browsers also have a pdf reader built-in to them. But installing Chrome is the best option.
Step 2: Take The PDF File To Chrome
You can use two methods for this purpose:
Ordinary Drag And Drop
Just click and hold on your file and drag it to the Chrome search bar. It will run as soon as it is released.
Copy-Paste File Location
The alternative method can be copy-paste. Locate the file from the hard drive. Right-click on the file and select properties. After that, go to the Security tab. The path to your file will be in the object name. Copy the text and return to Chrome, paste the copied path and go with the text.
Step 3: Type In The Password And Save The PDF
Once the file is opened, Chrome will ask you for the password. But behind the popped-up message, your PDF is loaded. Type in the password to get access and print the file.
If you are on Windows, then press CTRL+P, but if on Mac, then press CMD+P. You can also right click through the mouse and select print. A print menu will show. From the drop-down menu in ''Destination,'' select ''Save as PDF''.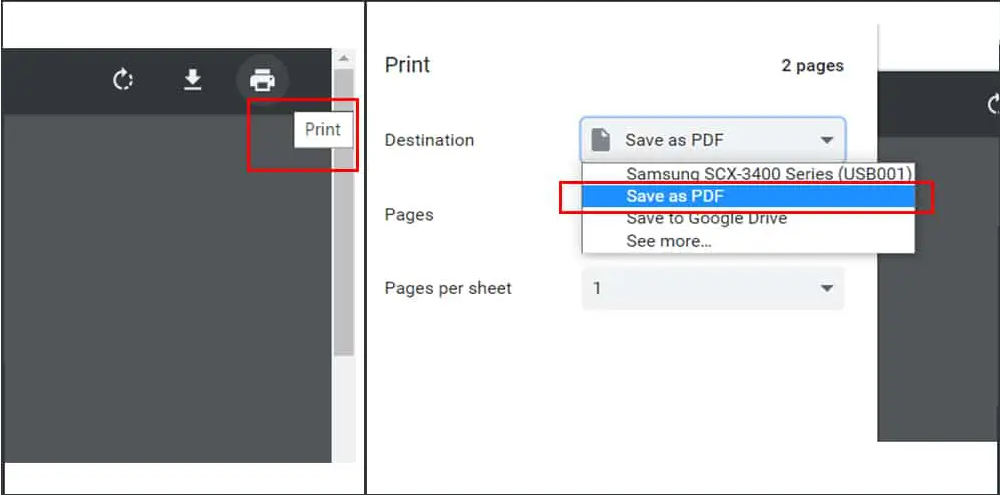 Step 4: PDF Is Re-Downloaded Without Password
A password-free file has been downloaded. It is a copied version of your pdf file without any restrictions. You can access the pdf any time without a passkey.
Method 2. How to Hack PDF Password Using Google Drive?
Google Drive can also serve as an efficient pdf password unlocker. It requires an email address and a G-mail account. This method is entirely free to use, and also the password is removed.
Step 1: Open Google Drive
Go to your browser and open Google drive. If you are using Chrome, then you will be automatically logged in. But on any other browser, first, log in through your G-mail.
Step 2: Tick Checkbox Convert Uploads
Click on settings (the gear icon) on the top right corner and select settings. There tick the checkbox "Convert Uploads" to enable it. This feature will convert all document files that will upload to Google Drive into Google Docs format.
Step 3: Upload Your File
Select "New" and then "Upload File". Select your pdf and click "Open." It will upload your file to Google Drive. The uploaded file will be automatically converted to Google Docs format.
Step 4: Open It In Google Docs
Now select the uploaded file by right-clicking on it and select "Open With." Click on "Google Docs" from the following list. Your pdf file will open in Google Docs format.
Step 5: Download The File
The last step is to download it. Go to the file and hover over "Download." Then click on Word Document (.docx). Your pdf file will be downloaded in Word Document without any password. You can access it anytime.
To crack pdf password using Google Drive is also one of the easiest ways to remove them from the file, but it is not reliable. Often it does not work depending upon the file size. Because you are limited to a file of just 2 MBs, you cannot shift a file more than 2 MB from Google Drive to Google Docs.
Also, many formatting settings change while converting the file through three different document formats.
Method 3. How To Break PDF Password Using A Third-Party Tool?
The internet is a big ocean of opportunities. There are a lot of free pdf password unlocker tools on the internet. But the one which is worth mentioning is PassFab for PDF.
PassRec for PDF is the best pdf password cracker out there. What makes it exceptional is the speed it offers. It can extract a password 40 times faster than other third-party software.
Step 1: Download and install.
Click here to download PassRec for PDF, and set it up on your Windows computer, and open it. The home screen looks like below: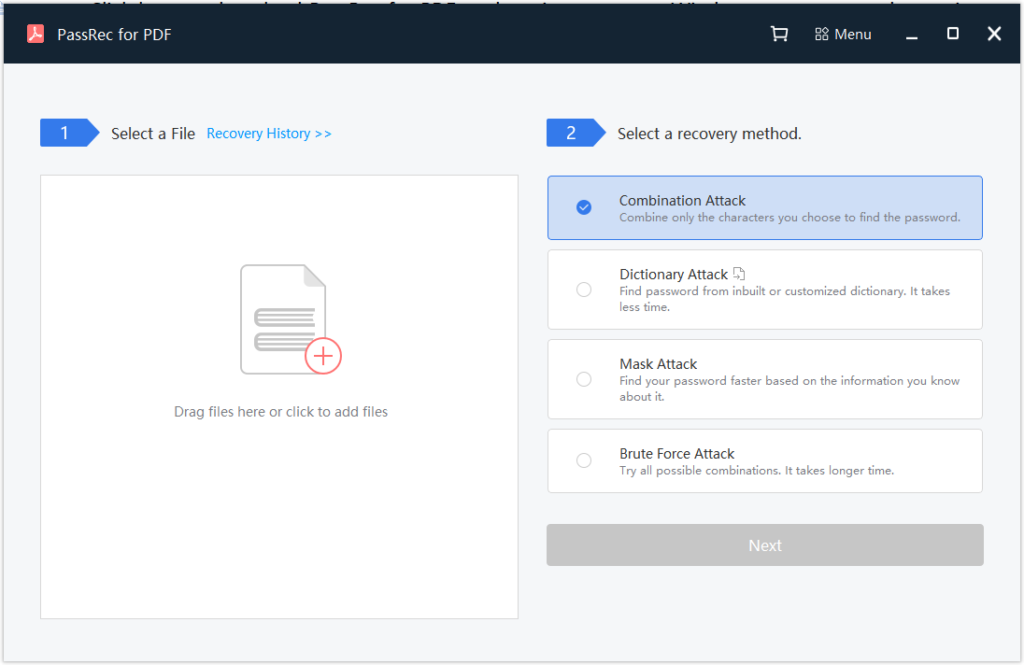 Step 2: Choose targeted files and unlock methods.
Drag the PDF file you want to unlock, and drop it to the blank space on the left side of the home screen.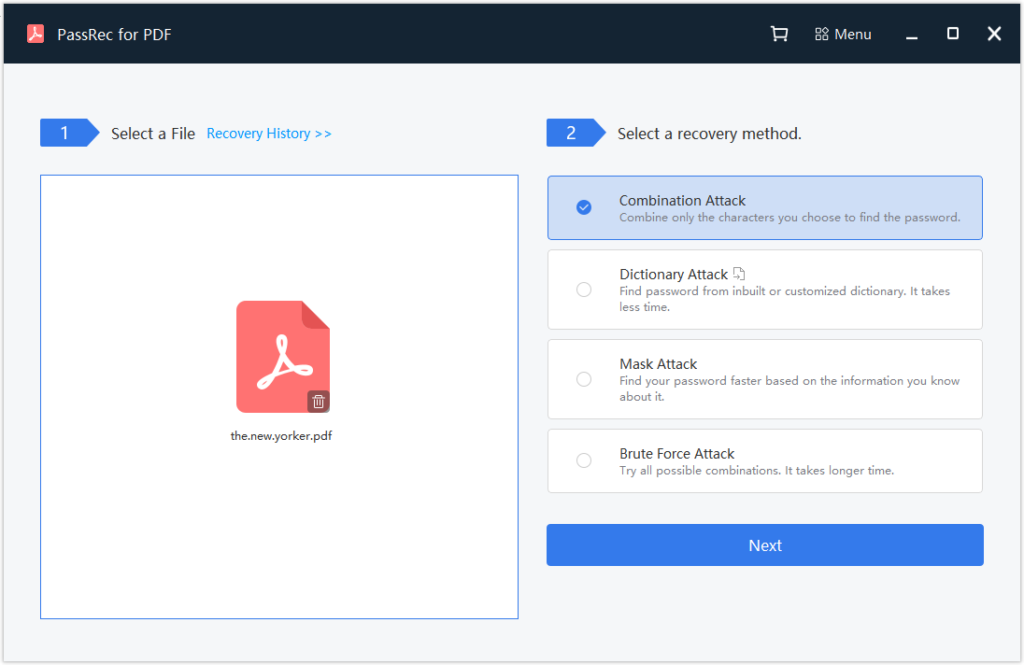 On the right side, choose a password cracking method that fit your file the best, and click Next.
Combination Attack
If you choose the Combination Attack method to, that means you only know some of the characters in the password.
So after choosing the method and click Next, you will have to provide some clues about the password that you know: the length of the password, prefix/suffix, lowercase/uppercase letters, numbers, and symbols.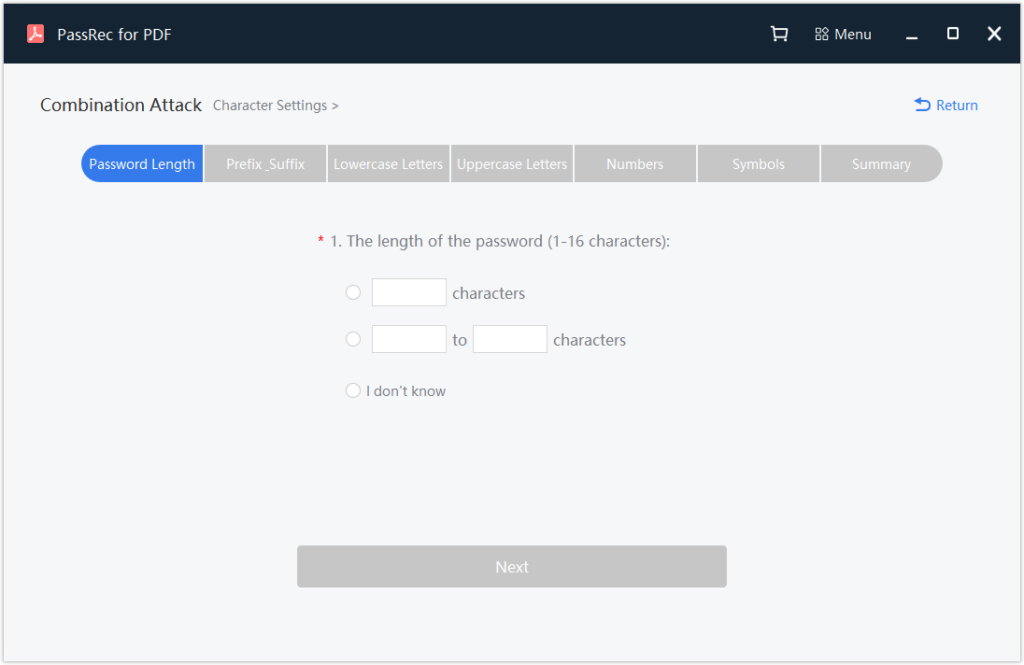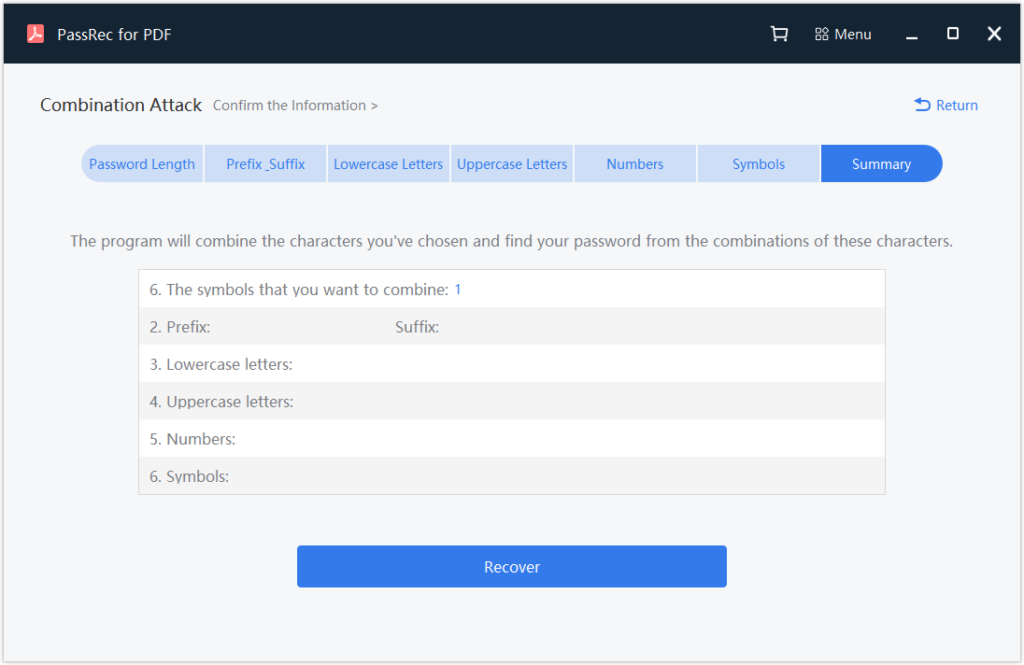 After all known clues have been provided, you will come to the Summary screen listing all the clues that you know. That will help PassRec narrow the range of password attack.
Dictionary Attack
If you choose this attack method, PassRec will automatically try to find your password from its inbuilt password dictionary. This will take a longer time than a combination attack.
Brute Force Attack
Brute Force Attack method is for those who have no idea what the password of their PDF file contains, or how many characters it has. Under this method, PassRec will try every possible way to do the password recovery, which will take longer than the above two methods.
Step 3: Wait until it's done.
Password recovery will take minutes, or even hours, totally depending on how many clues you have provided, and how complicated your password is.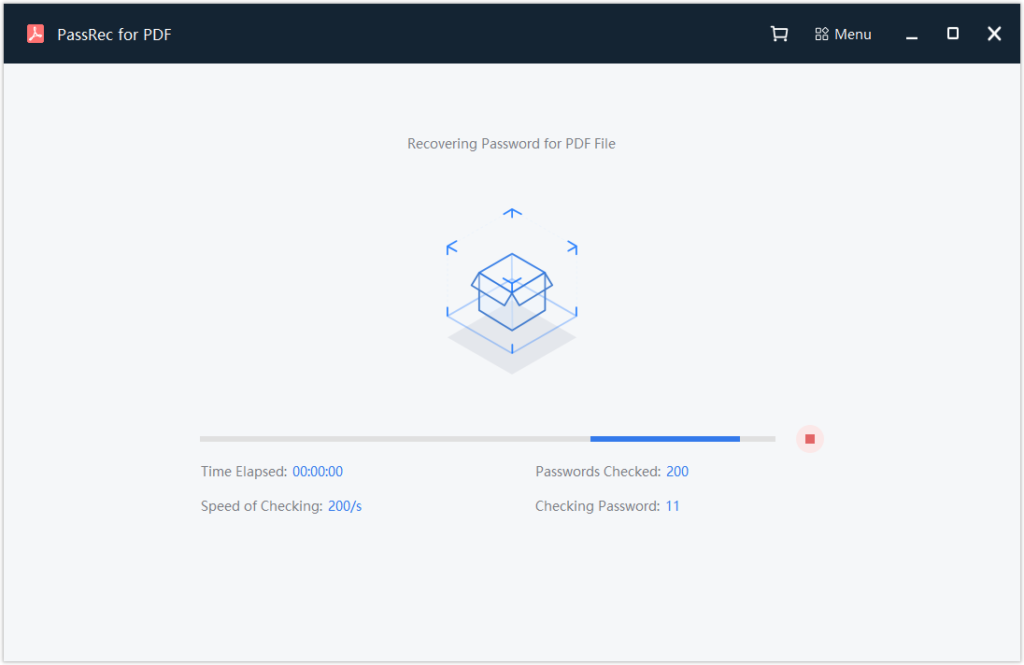 If PassRec successfully unlocks your password, you will see this screen notifying you the password of your file.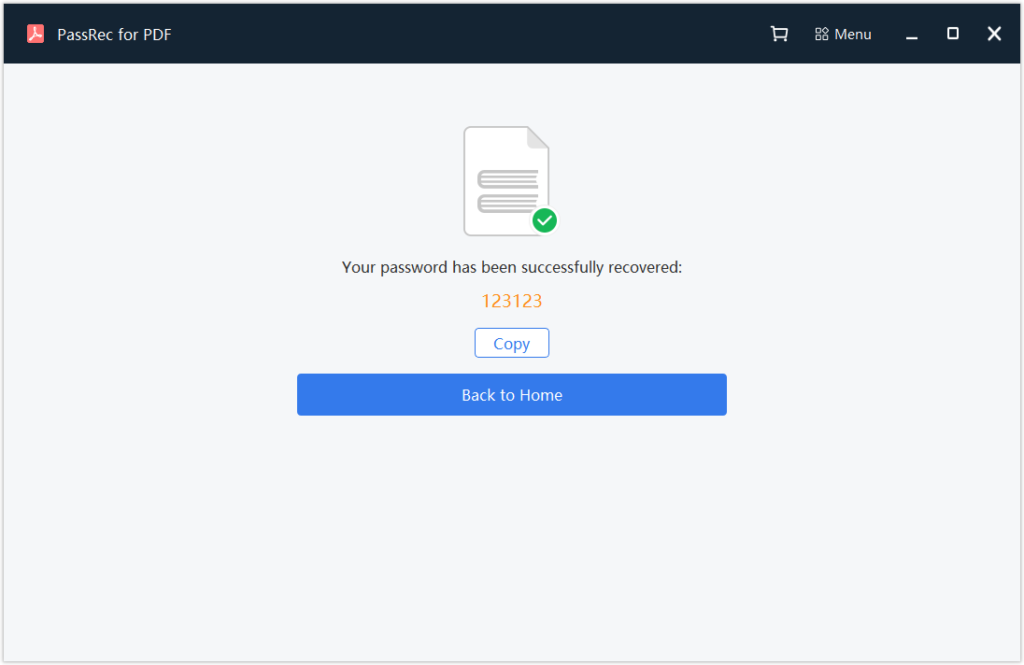 You can click the Copy button, and use it to open the encrypted PDF file.
Method 4. How To Crack PDF Password Using Online PDF Crackers?
Since cloud-based software technology is getting more popular, many online pdf password remover tools are rising that offer free online services to their users. They will get the job done with minimum effort.
Below is a small list of simple but effective online pdf password remover tools that are easy to use.
Small pdf is an online pdf password unlocker that helps in extracting content without a passkey. It runs on many AI engines to get the key.
Step 1: Open Smallpdf.com
Go to your browser and type smallpdf.com. The website will load in seconds.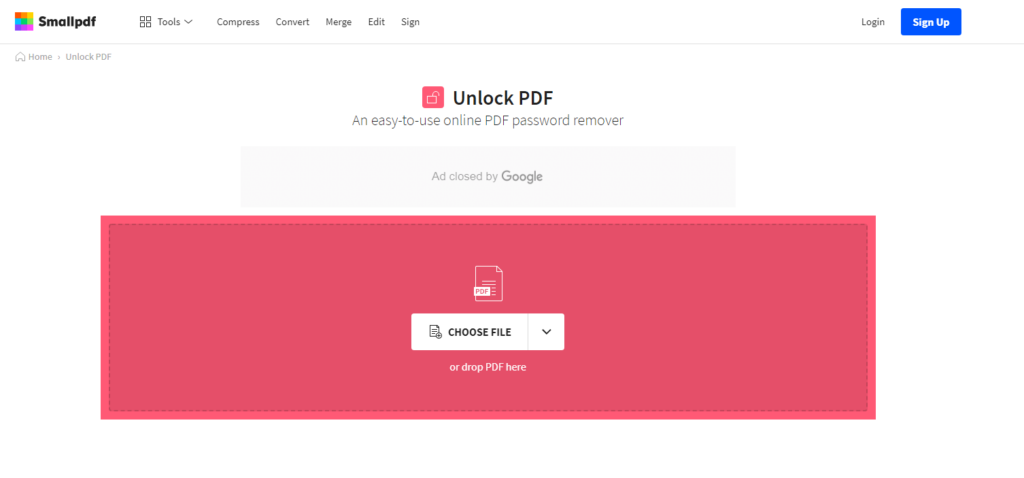 Step 2: Upload File
On the website, you can upload the file from your Google Drive, Dropbox, or computer. You can also drag and drop the file in the box.
Step 3: Unlock PDF
After uploading the file, you would tick the checkbox, "I pinky-swear that I have the right to edit this file and remove its protection." And click on unlock pdf. Tool's AI will work on cracking the combination.
Step 4: Download Your Unlocked File
As soon as the password is removed, you will be able to view your document. Now you can even download the file to your desktop or transfer it to Drive.
Conclusion
There are numerous guides that show how to crack PDF password. But the best ways are mentioned above in detail. You can choose whichever suits you and can hack PDF password in no time.
Remember, not all of them work for everyone. Based on the computer being used, operating system, and pdf file, some methods might work and some might not . But there should be one which is for you. Now that you know how to unencrypt pdf, Happy Cracking!